Correction
In this article we printed that "a multi-purpose gymnasium, a cafeteria and an auditorium" were being built. Superintendent Hanson was kind to point out, "long-range plans for the building include updates to the building cafeteria, as well as possible additions of a gymnasium/auditorium, the current project includes none of those items."
At this time the school district is simply replacing existing classroom space and also addressing the need for some additional classrooms to accommodate growth in enrollment.
Deer Park will soon have a beautifully enhanced middle school for its young teens to get a modern start towards their future.  If anything could be told to them about their fortuitous learning environment, it is to let them know that concerned persons twenty years ago thought, planned, and budgeted for this day and for their education.
What could be more encouraging than seeing the rewards of fiscal responsibility and the fruition of a stated goal?  Such is the case at Deer Park Middle School.  With perimeter fencing, fresh mounds of dirt and uprooted trees, and on-site office trailers, Deer Park Middle School is undergoing an upgrade planned long ago and being brought into reality without an additional penny cost added to the taxpayer nor any bond having to be issued.
In 1996, the Deer Park School District began transitioning 5th graders from Arcadia Elementary School into 6th graders in temporary buildings at Deer Park Middle School. This transition proved to be so successful both academically and socially, that it continues today, and has also been adopted by both Spokane and Mead school districts. Recognizing decades ago the buildings were temporary and would eventually need permanent structures, the nine member Deer Park School District's Citizen's Facilities Committee, along with the Deer Park School District, have been setting aside money in their Capital Projects funds account for the purpose of making the temporary changes permanent.  With funding arranged, the district has been working with Madison, Mitchell, Everson and Conrad (MMEC) Architects in Spokane to design the new space. 
 Among the architects at MMEC is hometown Deer Park High School graduate and lead architect Boyd Lusarreta.  The company of Leone & Keeble, Inc. has been hired for construction.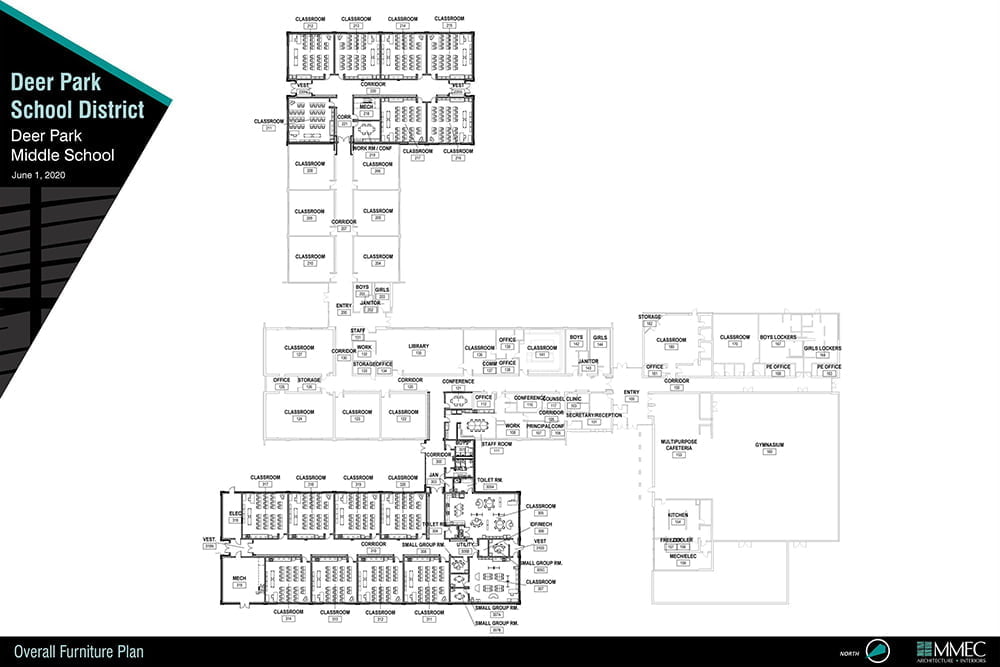 To follow the progression of this project, visit: News.dpgazette.com/2020/09/ground-broken-on-new-additions-dpms/ News.dpgazette.com/2018/08/middle-school-renovation-plans-underway