Hamburger, a watercolor painting by local Deer Park Homelink student Johnathan Brooks placed fourth in the annual Congressional Art Competition in Washington State Congressional District #5. The painting will be displayed in Congresswoman McMorris-Rodgers Walla Walla's office.
Each year congress holds an art competition with winners selected from each congressional district. The winners' art from each congressional district will be displayed in the tunnel connecting the Cannon House Office to the US Capitol Building. In addition, three other art submissions were chosen to be displayed in the Congresswoman's various office locations throughout her district. 
WINNER: "Kia Kaha" by Meagan Hilfiker, a senior at University High School.
SECOND PLACE: "Liberty" by Gabriel LeBret, a freshman at Gonzaga Preparatory School.
THIRD PLACE: "Expression" by Marin Katz, a freshman at Gonzaga Preparatory School.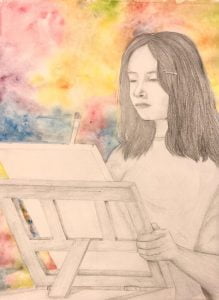 FOURTH PLACE: "Hamburger" by Johnathan Brooks, a junior at Deer Park Homelink.