Multiple cougar sightings have been reported in our area. The reports have been as simple as a photo caught on game cameras or as concerning as attacks on homeowners' domesticated pets.  Since the beginning of 2018 there have been at least 10 cougar sightings within a 20 mile radius of Deer Park, which includes Loon Lake, Elk, Deer Lake, Springdale, and North Spokane. These sightings were only counted after they had been confirmed by the Washington Department of Fish and Wildlife (WDFW).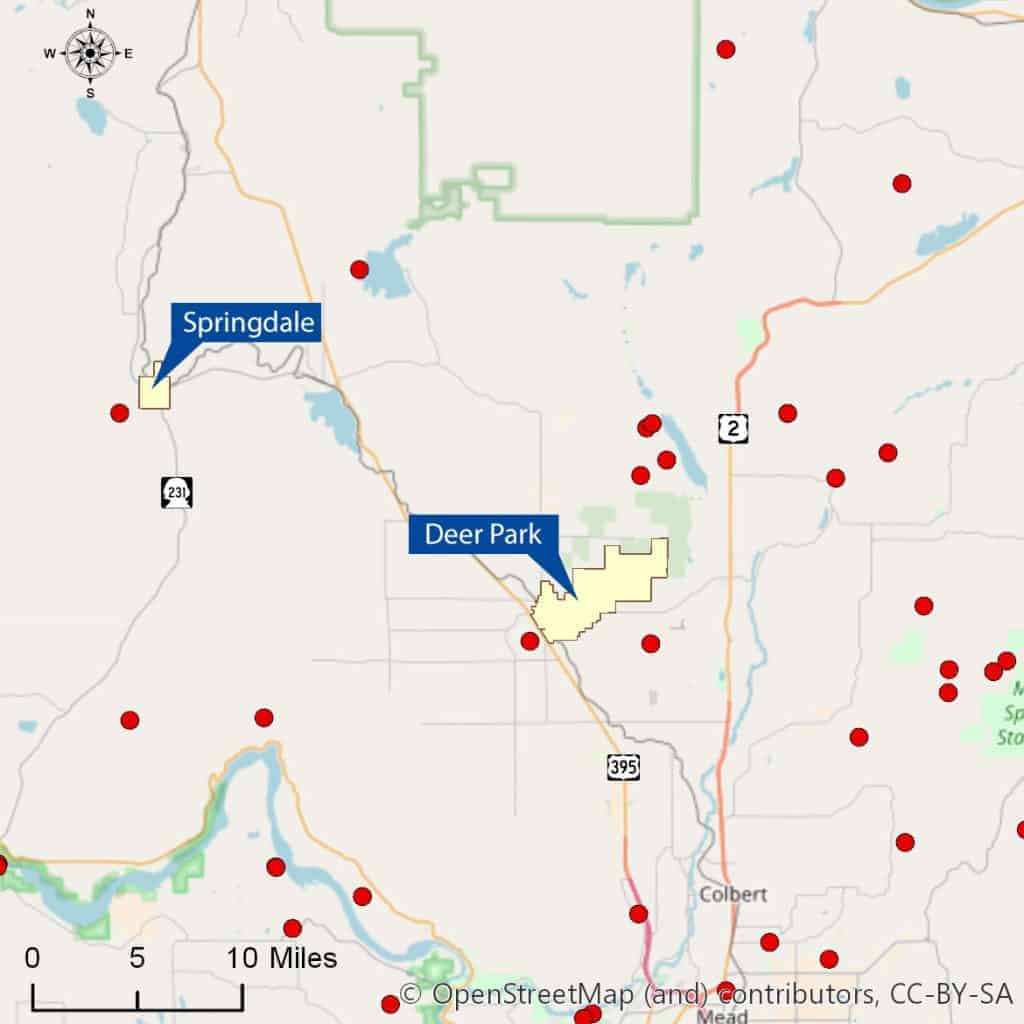 Cougar!  Where?
Cougars hunt as well as hide from dangers, so stealth is important to them. What people may not know is that a male cougar can have a home territory of 50 to 150 square miles in which he roams; this area can overlap multiple female territories that are smaller in range. The most common time for cougars to breed is winter and early spring, though they can breed all year round. Cougars are also nocturnal, so they are most active from dusk until dawn. Females with their cubs may travel up to 15 miles in a night. Just because you don't see a cougar and they have not been seen nearby does not mean they aren't in the area.
Here are a few cougar signs to watch for while enjoying the outdoors:
Cougars make very little impact on the ground. Their tracks are soft and about 3 to 3.5 inches in diameter. Because their claws are retractable, claw marks are rarely visible in their tracks.
In snow you may see the tail mark between each paw print.
You can also look for droppings, generally cylindrical in shape, segmented, and blunt at one or both ends. An average dropping measures 4 to 6 inches long by 1 to 1½ inches in diameter.
Cougars mark their territory boundaries by leaving claw marks on trees, stumps, and occasionally fence posts.
The Washington Department of Fish and Wildlife keeps track of cougar sightings; you can see them by going to DPGazette.com/wdfwreports, then click on the Cougar Incidents link.  This will open up a map that shows all of the incident reports that the wildlife agencies have received and confirmed in our area.
Active Prevention
If your area is known as a cougar's stomping ground, you may want to take some precautionary measures in order to protect your family, pets, and livestock.  
Steps to protect your family, pets, and livestock:
Make sure your children know what to do if they encounter a cougar.
Playing in groups and having adult supervision is best for protection.  
Dogs can see, smell, and hear a cougar sooner than we can, so they can be an early warning system.
Modifying the habitat around your home with lights, fencing, and closing off open spaces under structures will help protect you and yours.
It is also important to discourage small wildlife from living near your home, as they often make tempting prey to a cougar. Do not leave food out, make sure garbage cans have tight-fitting lids, as well as minimizing shrubs and other small hiding places.
Secure pens help protect your outdoor livestock.
Small pets are safer inside from dusk to dawn whenever possible, so that they do not become prey for a cougar.  
If you come face to face with a cougar, stop where you are and pick up small children if there are any around. Make yourself as big as possible and do not move quickly. Do not turn your back or take your eyes off the cougar as you slowly move away. Always leave a cougar an escape route and do not approach it. Do whatever you can to not appear like prey but instead a potential danger that the cougar will want to avoid. Cougar attacks on people are extremely rare.
How To Report
If it is an emergency please contact 911. It is important to report all sightings and encounters to the WDFW. You can do this online, by calling, or via text message. More details on reports are available at DPGazette.com/wdfwreports. Call the non-emergency poaching/violations or dangerous wildlife complaints line at 1-877-933-9847.  Contact WDFW online at https://wdfw.wa.gov/enforcement/violation/reportStart.html or text them at 847411 (TIP411) Enter WDFWTIP (a space) and the report. Reports are completely anonymous. WDFW is open Monday – Friday, from 7am to 5pm and closed weekends and holidays. If you are outside of these hours of operation, please contact your local State Patrol as they dispatch for WDFW when closed.